The Full rack 2D barcoded tube scanner allows quick and easy input of sample tracking data combined with Kraken™ software and the Cyclops™ and K-Trak™ in process as tube scanners.
The flat bed scanner base conforms with SBS standard 2D barcode tube racks which allows easy integration into automated systems including the SNPline™.
Simple to set-up and use
Interfaces with existing sample tracking software systems and LIMS
Customisable text output.
Make an enquiry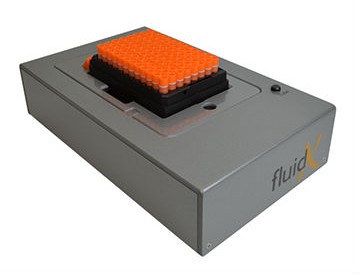 Ordering information
| Catalogue number | Description | Units |
| --- | --- | --- |
| KBS-0025-002 | 2D x 96 Rack High Speed Reader | 1 |
| | |
| --- | --- |
| Sensor type | CCD image sensor |
| Light source | CCFL (cold cathode fluorescent light source). |
| Read time | 8 seconds (Total scan and decode time for rack of 96 tubes). |
| Tube compatibility | All 2D Data Matrix labelled tubes in SBS footprint racks. (24, 48, 96, 240 and 384 formats). Includes glass compound storage tubes, cryo tubes, biological sample tubes. |
| Dimensions | 175 x 291 x 71mm (WxDxH) |
| Weight | 0.5kg |
| Power requirements | AC 100 to 240 V, +/-10%, less than 8 W. |