Automated NGS Library Preparation System
Automated NGS Library Preparation System
This breakthrough in epigenetics assay and library preparation automation provides superior throughput and complete walk-away capability.
The IP-Star® Compact Automated System represents a breakthrough in epigenetics assay and library preparation automation providing superior throughput, reproducibility of results, and complete walk-away capability.* The system provides the flexibility needed to change multiple parameters in your protocols to achieve optimal experimental conditions. Samples generated on the system are compatible with popular downstream applications such as qPCR, microarrays and next generation sequencing platforms. In addition to automated ChIP and DNA methylation protocols, this system contains a wide variety of protocols including the new tagmentation-based ChIPmentation, next generation sequencing library preparation and sample purification.
The automated IP-Star compact system reduces hands-on time to just 30 minutes, is ideal for low sample starting amounts and reduces variability between operators and labs.
Make an enquiry
Request a quote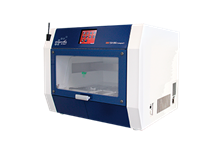 Ideal for:
Chromatin immunoprecipitation (ChIP)
Chipmentation
Methylated DNA Immunoprecipitation (MeDIP)
Library preparation for Next Generation Sequencing (NGS) platforms
Hydroxymethylated DNA Immunoprecipitation (hMeDIP)
Methyl-binding domain protein capture assays (MethylCap)
Sequential ChIP (Re-ChIP)
Bisulfite conversion
DNA purification (IPure)
Features
Magnetic-bead technology for excellent reproducibility
Open platform allows changes in protocol parameters
Protocols optimal for 100 µl or 200 µl volumes
Processing up to 16 samples
Automated reagent dispensing
Controlled temperatures with Peltier blocks
User-friendly simple touch screen interface
Minimal footprint
Key application notes and publications
Request a quote
Technical specifications
Throughput
1-8 samples/batch
Processing time
About 30 mins / 1-8 samples
Volumes
5 – 200 µl
Unit dimensions
80 [W] x 70 [D] x 67.5 [H] cm (disregarding prongs)
31.5 [W] x 27.6 [D] x 26.6 [H] in (disregarding prongs)
Weight
97 kg (213.9 lb)
Consumables
| | |
| --- | --- |
| Catalogue number | Description |
| DIAG-C30010014 | SX-8G IP-Star Compact 2 ml microtubes - 100pc |
| DIAG-C30080030 | IP-Star 96 well microplates for IP-Star – 10pc |
DNA/RNA shearing instruments for NGS
To enable sensitive and reliable NGS results DNA must first be effectively and consistently sheared into the appropriate fragment size.
Desktop sonication: Diagenode One
Advanced water bath sonicators: Bioruptor® Pico and Bioruptor Plus
Long read sequencing library preparation: Megaruptor® 2
* LGC's distribution agreement includes EMEA, South America and Canada for all market sectors and the United States for the agricultural biotechnology sector.