5'-DMT-dA(Bz)-Suc-CPG; 500 Å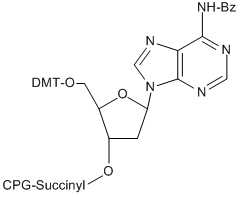 Order now
Catalog #
Price
Size/Scale
Note
Qty
Add
{{item.catalogId}}
{{ item.userPriceBook.unitPrice | currency }}
{{ item.unitPrice | currency }}
{{item.sizeAndScale}}
{{item.note}}
{{item.message}}
checkout view cart
5'-DMT-dA(Bz)-Suc-CPG is used for the placement of dA on the 3' end of oligonucleotides. The 500 Å CPG is useful for the synthesis of oligos up to 50-mers in length, especially when larger amounts of product are desired, as it allows for greater nucleoside loading amounts than do supports with larger pore sizes.
Properties:
Chemical Name:

5'-DMT-dA(Bz)-Suc-CPG; 500 Å

Appearance:

White Powder

Extinction Coefficient at 260 nm:

15200
Spectral properties measured in water of cleaved and deprotected nucleoside.
Product usage:
Cleavage conditions:

Use concentrated ammonia for 90 minutes at 25 °C when using standard amidites or 1:1 ammonia:methylamine (AMA) for 25 minutes at 25 °C when using fast deprotecting amidites.

Deprotection conditions:

When using fast deprotecting amidites (eg. C-Ac, G-DMF, G-PAC) use concentrated ammonia for 1 hour or AMA for 30 minutes at 60 °C. When using standard amidites (eg. C-Bz, G-iBu) use concentrated ammonia for 5 hours at 60 °C.

The mass this product adds after conjugation and work-up (the additional mass seen by mass spectrometry) is:

313.2
Storage and handling:
Shipping conditions:

Ambient

Storage conditions:

+2 to +8 °C