The Genespin instrument has been discontinued please see the oKtopure automated DNA extraction system instead for your extraction needs.
Semi-automated high-throughput DNA extraction instrument
Speed is of the essence when it comes to DNA analysis of plant breeding populations. This creates a demand for high-throughput DNA extractions from plant tissues, with resultant purified DNA of a suitable quality for PCR-based applications.
The Genespin™ platform completes the nucleic acid extraction range and was engineered to fulfil the growing demands for the highest throughputs. It enables semi-automated but high- throughput DNA extractions from plant tissues, and utilises our proprietary Kleargene™ extraction chemistry.
The Kleargene spin plates utilise a glass fibre solid support inserted into a microtitre plate, in 96- and 384-well formats. To guarantee a throughput of more than 5,000 extractions per day, the Genespin has been optimised to load the buffers into the spin columns without any cross-contamination. Kleargene kits are suitable for extractions between 100 ng and 5 µg DNA from plant material.
In conjunction with our SNPline™, the Genespin platform provides DNA of a quality that is sufficient for downstream applications including PCR, SNP genotyping including KASP, and array technologies.
Key features of the Genespin
Enables high-throughput DNA extraction: 8 x 96 or 8 x 384 plates/hour

96 format: up to 5,500 samples per day
384 format: up to 20,000 samples per day

Minimise consumable costs: in-built tip wash station ensures that only one set of tips is required per run
Replicator function: the Genespin instrument can be used to prepare DNA dilution plates (96- and 384-well) and to stamp DNA into PCR plates
Efficient use of laboratory space

Small format: 170 cm x 68.5 cm x 65 cm

Compatible with existing SNPline installations.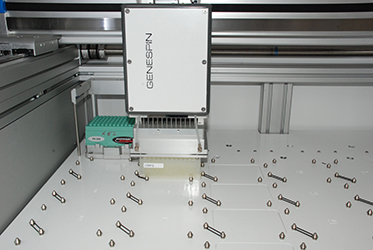 Make an enquiry
Product information sheet
Related products