Enabling agile SARS-CoV-2 detection now and into the future
Evolve your genomics alongside an evolving virus.
You need your suppliers to pivot in tandem with each surge and lull of the Coronavirus pandemic. Our customers love our unique approach to collaboration - we're more than just a supplier; we're your partner. We thrive when we work closely with our customers by offering our technical expertise to deliver high-quality extraction chemistries, oligos, PCR reagents, quality control solutions and instrumentation so they can get the results they desire.
Examples of how we can serve you:

Diagnostics

Genomic surveillance

Oligo synthesis

Kit development

Automated workflows
Critical components for SARS-CoV-2 genomic analysis

Why choose Biosearch Technologies to support your COVID-19 detection programmes?

Unmatched quality

Scalable

Stringent risk mitigation

Proven track record supporting past public health crises such as the 2009 H1N1 Swine Flu outbreak.

Unmatched quality manufacture of oligonucleotides backed by expert knowledge for customisation. All probes are HPLC purified. Lot-to-lot consistency. ISO 9001 compliant.

Scalable extraction chemistries, enzymes and master mixes to develop your optimal kit. Lyo-compatible options.

Widest selection of nucleic acid chemistry (NAC) reagents and CPG solid supports, including gold standard BHQ and BBQ quenchers from original source.

Rigorous contamination mitigation to ensure the reliability of your assays.

Vertically integrated manufacturing operations supported by global logistics to ensure a resilient supply chain.

COVID-19 resources and downloads
Product info access
Automation-compatible products for high-quality RNA extraction and purification from a range of clinical samples, including upper respiratory specimens.
High-performance reverse transcriptase (RT) options that can fit into a range of workflows.
Sensitive pathogen detection with our trusted master mix reagents.
Custom synthesised and pre-designed probes and primers
Pick and choose which COVID-19 signatures work best for your lab with individual RUO probes and primers using sequences as designated by Charité and US CDC protocols:
Custom, bulk oligos that can scale with demand
Nucleic Acid Chemistry reagents for in-house synthesis
We are the inventor and source manufacturer of BHQ™ and BBQ™ dyes, not to mention CAL Fluor™ and Quasar™ products, and support oligonucleotide synthesis with decades of combined expertise and experience from our Prime Synthesis, BioAutomation, LINK and Berry & Associates brands.
Stellaris RNA FISH probes
Stellaris™ RNA FISH is a RNA visualisation method that allows simultaneous detection, localisation and quantification of individual mRNA molecules at the cellular level. Hepp, C. et al. developed an affordable and sensitive rapid viral FISH protocol (rvFISH) to detect SARS-CoV-2 RNA in 20 minutes using probes designed by the Stellaris online probe designer. Read more.
LGC Clinical Diagnostics offer a complete Quality Solution for COVID-19 diagnostic assay validation
AccuPlex™ technology mimics wild-type pathogenic viruses, but is safe, non-infectious, and replication deficient. These materials serve as true, full-process quality solutions that challenge the entire diagnostic workflow, making them the preferred alternative to infectious materials.

Together, the AccuPlex SARS-CoV-2 Verification Panel and AccuPlex SARS-CoV-2 Reference Material Kit offer an ideal solution for clinical laboratories looking for a safe, effective tool to verify and monitor SARS-CoV-2 molecular assay performance. Products contain positive materials directed against the published CDC and WHO consensus sequences and the S gene. Negative materials targeting the human RNase P gene are also included.
LEARN MORE
"We just went 'live' with the SARS-CoV-2 assay…I've never brought in and validated an assay in 7 days. The LGC Clinical Diagnostics (formally LGC SeraCare) reference materials works perfectly. I needed something other than the assay's positive control to create a positive assay result before I felt comfortable releasing the assay for patient testing, and your product did the trick."
Medical Director, Clinical Chemistry Laboratory prominent Boston Academic Medical Hospital
For testing
Confidently meet surging demand with a large-scale, end-to-end testing solution.
As the need for SARS-CoV-2 testing continues for both diagnostic and screening applications, many organisations are looking to create or shift testing capacity. An unpredictable market makes implementing a testing strategy challenging, calling for automation platforms that are able to adapt to fluctuating needs.
Biosearch Technologies offers fully automated PCR testing technology that is redefining high-throughput for SARS-CoV-2 detection to 35,000 tests per day on a single system. To further enable frequent, repeat testing, our ultra-high-throughput PCR testing system is capable of processing up to 150,000 tests per day on a single system.
LEARN MORE
For oligonucleotide synthesis
To support the demands of high-throughput oligo synthesis, we offer the MerMade™ 192E and MerMade™ 192X synthesizers. The 192E (and the robotic version 192R) is especially suited to less complex probes and primers and can synthesise 192 oligos in less than 3 hours, producing a very high-quality product with minimal reagent usage.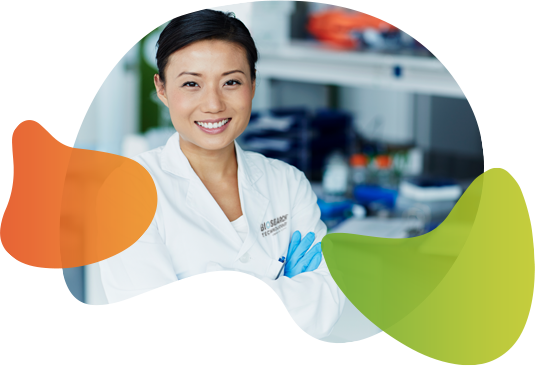 Working with you to wield science for a safer world.