For DNA and RNA screening and genotyping-type applications, PCR-grade genomic DNA is sufficient, which can be rapidly and efficiently extracted using QuickExtract™ DNA Extraction Solution. In 3-8 minutes, and using only a single tube protocol, PCR-grade genomic DNA from almost any sample type can be extracted, without the use of centrifuges or spin-columns.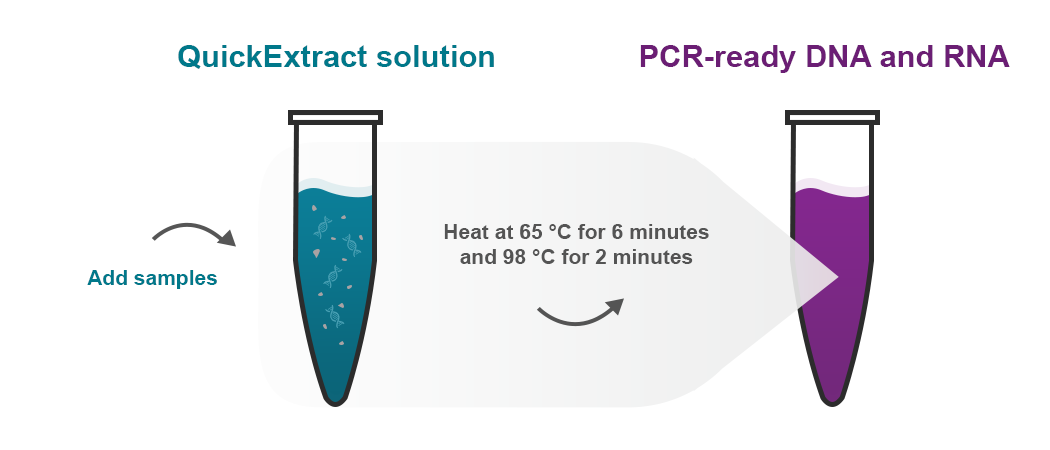 Procedure for obtaining PCR-ready DNA and RNA using QuickExtract DNA Extraction Solution.
QuickExtract Solution has been used to extract DNA and RNA from samples such as hair follicles, quill-end cells of feathers, tissue culture cells, buccal cells, zebrafish organs and scales, and mouse tail snips. It has also been used in SARS-CoV-2 diagnostics for simple and fast extraction of RNA from virus sample material including swabs, saliva, and UTM/VTM. The extracted DNA and RNA is suitable for PCR and RT-PCR analyses, such as genomic, transgenic, or viral screening in animals, or for genetic or environmental research and screening in humans and other organisms.
Key features
3-8 minute quick and easy extraction using a simple, one-tube protocol
Produces PCR-ready DNA and RNA for a range of applications on most sample types
Integrates easily into automated workflows