The Kube™ is LGC's fully automated, robotic friendly thermal plate sealer. A truly robust and reliable heat sealer that delivers unsurpassed levels of speed, performance, flexibility and ease-of-use.
Key benefits
Seal and re-seal your plate up to 5 times
Suitable for application to a wide variety of plate formats (24-, 48-, 96-, 384- and some 1536-well plates)
Allows sealing of microplates for storage, PCR or other reactions
Can be used to seal with optically clear material.
Why choose the Kube?
Plate heights 9-45 mm
Typical 6-8 sec plate sealing cycle
265 mm diameter film-roll (capable of 4500+ seals)
Automation friendly portrait or landscape plate presentation
Simple to use, intuitive touch screen operation
Enables stored methods for different sealing conditions and seal length
Minimal instrument footprint conserves valuable bench space
Capable of high rim plate sealing
Universal plate nest design.
Make an enquiry
Resources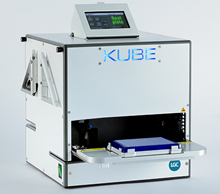 Kube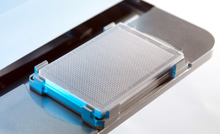 A 1536-well plate ready to be sealed by the Kube
Ordering information
| Catalogue number | Description |
| --- | --- |
| KBS-0005-001 | Kube heat plate sealer |
| KBS-0005-002 | 96-well plate Kube adaptor |
| KBS-0005-003 | 384-well plate Kube adaptor |
| KBS-0900-010 | Kube 12 month service contract |