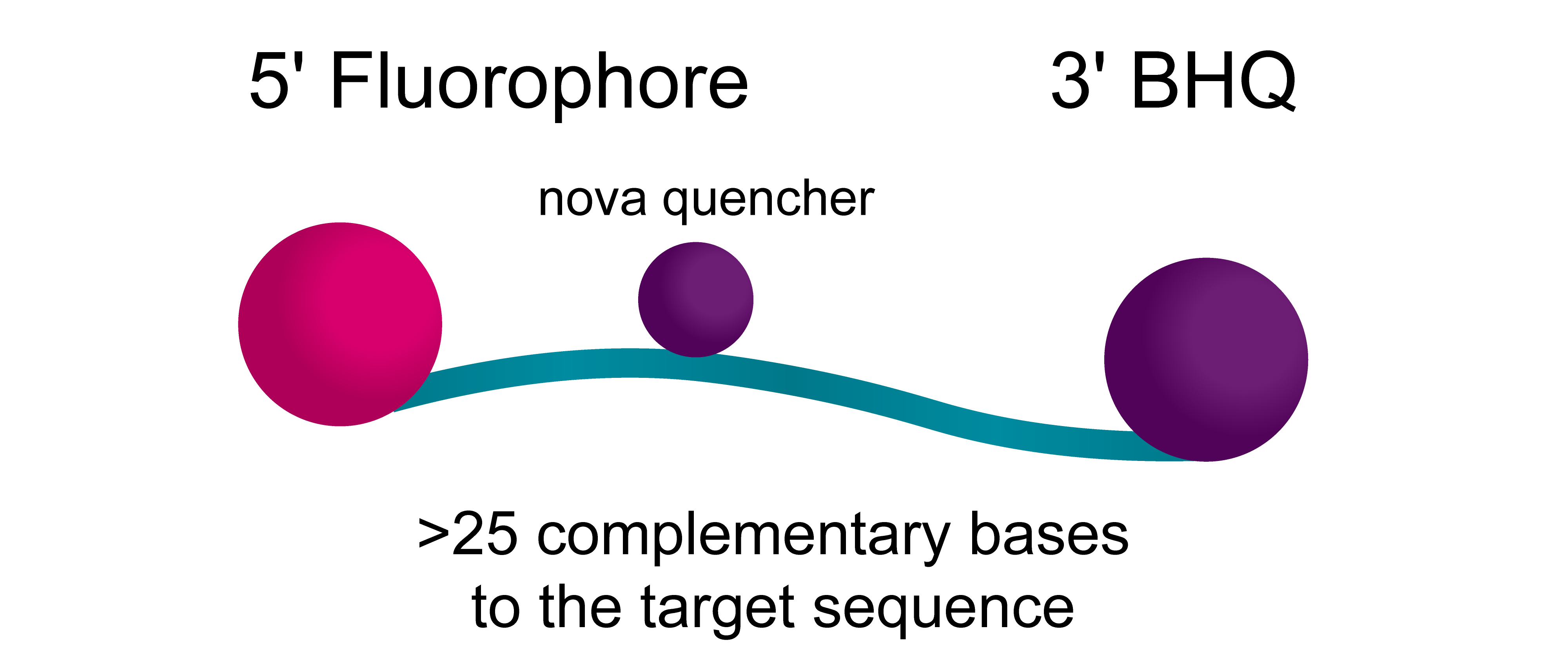 BHQnova™ Probes are double-quenched hydrolysis probes that exhibit improved quenching and greater signal-to-noise ratio for long probes (>25 bases). These probes have a 5' fluorophore dye, a 3' Black Hole Quencher (BHQ) and an internal nova quencher incorporated between base residues 9 and 10.
When a long probe (>25 bases) design is necessary, such as to achieve a suitable melting temperature (Tm) in an AT-rich target region, the increased distance between the fluorophore and quencher can reduce the quenching efficiency in regular end-labelled probes. In double-quenched BHQnova Probes, the nova quencher is closer to the fluorophore, which increases quenching efficiency. Increased quenching efficiency reduces background fluorescence and improves assay sensitivity.

Key benefits:
More efficient quenching: Improved quenching of long probes, such as those designed in AT-rich regions.
Higher signal-to-noise ratio: Double-quenched BHQnova probes have lower background fluorescence, resulting in greater signal-to-noise ratios.
Increased sensitivity: Improved assay sensitivity in multiplex reactions.
Higher signal-to-noise ratio for long probes
For long sequences, double-quenched BHQnova probes quench the fluorophore signal more efficiently than standard end-labelled probes, which results in lower background/baseline fluorescence values. When assay fluorescence is normalised by baseline subtraction, BHQnova probes show a significant improvement in signal response.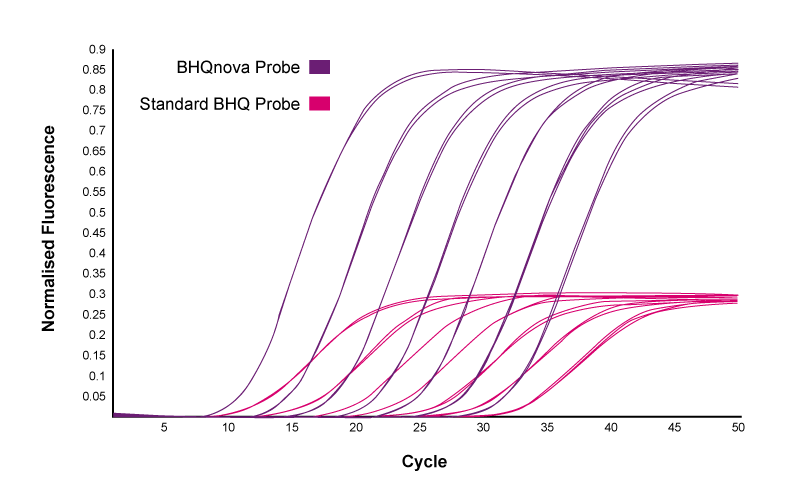 qPCR amplification curves comparing a BHQnova probe (red) and a standard end-labelled probe (black) of the same 35-base sequence. The normalised amplification data illustrates the dramatic improvement in signal response.
Select the best dye for your application
5' fluorescent dye

Abs (nm)

Em (nm)

Internal quencher

3' quencher

FAM
495
520
nova
BHQ-1
TET
521
536
nova
BHQ-1
CAL Fluor Gold 540
522
544
nova
BHQ-1
HEX
535
556
nova
BHQ-1
CAL Fluor Orange 560
538
559
nova
BHQ-1
Use the spectral overlay tool to view compatible dyes for your instrument. Learn more
Design recommendations for BHQnova Probes
BHQnova probes provide the greatest benefit for probe designs that are 25 bases or longer. For those shorter than 25 bases, a standard, dual labelled BHQ Probe may be suitable.
BHQnova probes contain the internal nova quencher modification by default. When ordering via our online order tool, the nova quencher will automatically be incorporated between the ninth and tenth base upon adding to the shopping cart – there is no need to designate the internal modification within the sequence.
BHQnova probes are perfectly compatible with other probe formats within multiplexed configurations. Barring any sequence interactions, you can combine BHQnova probes with standard BHQ probes or BHQplus™ probes, within the same reaction.