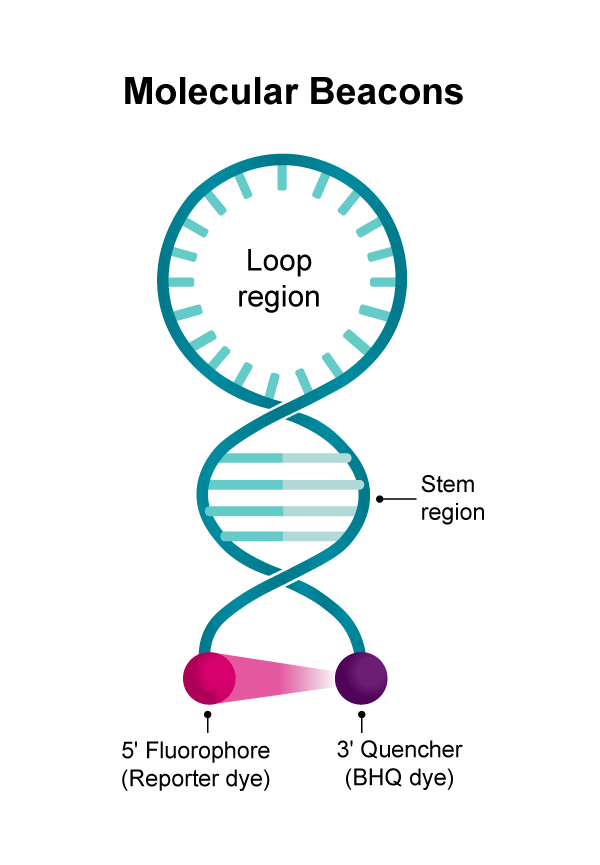 Molecular Beacon probes are dual-labelled probes that form a stem-loop (hairpin) structure, bringing the reporter and quencher into proximity. The loop region contains the sequence that hybridises to the target sequence, while the complementary sequences at both ends of the probe form the stem. These probes generate fluorescence under non-hydrolytic conditions via hybridisation to the target.
Molecular Beacon structure:
5′ fluorophore: The reporter dye emits fluorescence when the probe is linearised and hybridised to the target, separating the dye and quencher.
3′ quencher: When the probe is in its hairpin structure, the proximity of the quencher to the reporter prevents fluorescence emission.
Stem: The stem is a double-stranded region formed by binding the complementary sequences (5-7 nt) at both ends of the probe.
Loop: The loop is a 18-30 nt sequence that is complementary to the target sequence.

Key benefits:
Enhanced specificity: The stem-loop conformation confers high specificity, making molecular beacons ideal for SNP/mismatch discrimination.
High signal-to-noise: Superior fluorophore quenching due to the proximity and the direct energy transfer between reporter and quencher while in the closed hairpin conformation.
Melt curve analysis suitability: Because molecular beacons generate fluorescence under non-hydrolytic conditions by target hybridisation, post-PCR melt curve analysis can be performed.
Select the best dye for your application
We offer molecular beacon probes labelled with a wide selection of dyes, enabling you to select options based on instrumentation and assay design. Quencher options for this probe type include Black Hole Quenchers (BHQ-1 and BHQ-2) and DABCYL dye.
5' fluorescent dye

Abs (nm)

Em (nm)

3' quencher

FAM
495
520
BHQ-1, DABCYL
TET
521
536
BHQ-1, DABCYL
CAL Fluor Gold 540
522
544
BHQ-1, DABCYL
CIV-550
530
550
BHQ-1, DABCYL
JOE
529
555
BHQ-1, DABCYL
HEX
535
556
BHQ-1, DABCYL
CAL Fluor Orange 560
538
559
BHQ-1, DABCYL
Quasar 570
548
566
BHQ-2, DABCYL
Cy3
549
566
BHQ-2
TAMRA
557
583
BHQ-2, DABCYL
CAL Fluor Red 590
569
591
BHQ-2
ROX
586
610
BHQ-2, DABCYL
CAL Fluor Red 610
590
610
BHQ-2, DABCYL
CAL Fluor Red 635
618
637
BHQ-2
Cy5
646
669
BHQ-2
Quasar 670
647
670
BHQ-2
Quasar 705
690
705
BHQ-2
Use the spectral overlay tool to view compatible dyes for your instrument. Learn more