GCP/IBP rice genotyping panel
GCP/IBP rice genotyping panel
Rice genotyping assay library - choose from >2,000 functionally validated KASP SNP assays. Cost-effective, easy to run, no minimum order.
A set of 2055 KASP™ SNP genotyping assays for rice has been developed for the Generation Challenge Programme and their Integrated Breeding Platform. Through LGC Biosearch Technologies these assays are now available to the rice breeding community to accelerate development of improved varieties by marker-assisted selection (MAS).
The rice genotyping library utilises our accurate and robust PCR-based KASP genotyping chemistry.
Unlike chip-based systems with fixed marker sets, our rice genotyping library allows you to flexibly pick and choose sets of markers according to changing needs arising in marker-assisted breeding projects. Furthermore, KASP genotyping assays are highly cost-effective, thus providing an economical option to use the same SNP assays throughout the course of a breeding programme.
Biosearch Technologies completes genomics solution also encompasses plant sample collection kits, DNA extraction and genotyping services, enabling breeders even in remote locations to apply MAS.
Make an enquiry
Resources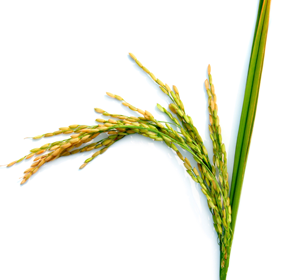 Development of the rice genotyping library
The conversion of rice SNPs to KASP assays was commissioned by the Generation Challenge Programme to produce a set of markers polymorphic within and between the main Oryza groups. A subset of these markers has been used to validate Oryza glaberrima/O. sativa polymorphisms (Pariasca-Tanaka et al., 2014).
Advantages
Library includes 2055 functionally validated SNP markers
Cost-effective and robust KASP genotyping technology
Flexible - pick and choose the markers that are relevant to your project based on genome location
Convenient – use informative markers directly on breeding populations or novel cultivars
No minimum order – order any number of assays from the library
KASP assays are easy to run in your own laboratory or can be used in a genotyping service project
Ordering
The rice KASP Assays can be provided as part of our genotyping service or as reagents to run KASP genotyping in your own laboratory.
The assays are available in 2 pack sizes:
| Cat. No | Product | Pack size |
| --- | --- | --- |
| KBS-2500-006 | Rice KASP Assay Mix | 2500 x 10 μL reactions |
References
Integrated Breeding Platform (IBP)
:
https://www.integratedbreeding.net
Development of genome-wide SNP assays for rice.
McCouch, S.R., Zhao, K., Wright, M., Tung C.W., Ebana, K., Thomson, M., Reynolds, A., Wang, D., DeClerck, G., Ali, L., McCIung, A., Eizenga, G., Bustamante, C. (2010).
Breeding Science
60: 524–535.
Development of a SNP genotyping panel for detecting polymorphisms in Oryza glaberrima/O. sativa interspecific crosses.
Pariasca-Tanaka, J., Lorieux, M., He, C., McCouch, S., Thomson, M.J., Wissuwa, M. (2014).
Euphytica
201(1): 67-78.