Overview
Bring better crops, livestock and aquatic organisms to market faster by simplifying genomic analysis and unlocking the power of genomic selection. LGC Biosearch Technologies provides tools to enable SNP marker discovery and design including DNA extraction services, NGS-based SNP marker discovery services, PCR-based assay designs and genotyping services.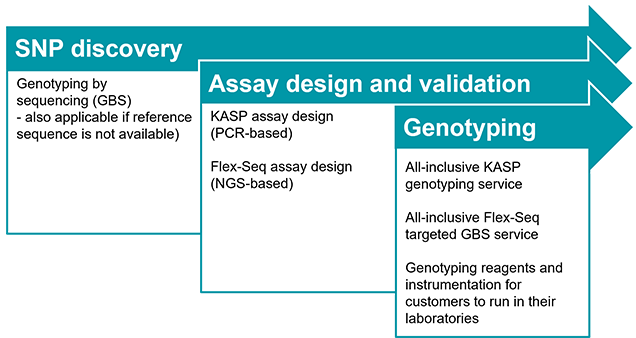 Advantages
There are multiple advantages of KASP™ SNP markers when compared to SSR/STR/microsatellite markers:
Faster analysis times
Scalable for high throughput applications such as large-scale screening protocols
Simpler data analysis, more robust and reproducible
Cost savings1
1E. Guichoux et al. Current trends in microsatellite genotyping. Molecular Ecology Resources (2011) 11, 591–61. Based on 24 SSRs analysed in 500 samples vs. LGC all-inclusive pricing (incl. DNA extraction and design).
The process
SNP markers have many advantages in their application and can unlock the power of high-throughput molecular breeding techniques. However, the conversion process requires several steps and considerations:
SNP discovery: Discovery of SNP markers in flanking regions of targeted SSR/STR/microsatellite or other genomic regions with targeted genotyping by sequencing (GBS) or enzyme restriction-based GBS for SNP discovery.
Validation of trait association: Validation by Biosearch Technologies is required to confirm the discovered SNP markers can be associated to the same traits as the original SSR/STR/microsatellite marker.
Assay design service: Biosearch Technologies' assay design services for discovered SNP markers for either PCR-based or NGS-based genotyping methods
High throughput genotyping: Using KASP or BHQ PCR-based assays or targeted genotyping by sequencing (Flex-Seq™)
The customer can also consider optional implementation of Biosearch Technologies' laboratory automation systems to enable high throughput extraction and genotyping in-house.
Applications
The SNP discovery service is ideal for:
Co-dominant SNP genotyping
Genetic diversity analysis
Genetic mapping
Mapping to whole genome sequence
Discovery of (rare) SNP variants
Genome wide association mapping
Genomic selection
Fingerprinting
Marker-assisted selection
Population genotyping
Marker-assisted backcrossing
Characterising training/reference populations
Molecular mapping
Marker-assisted recurrent selection
QTL mapping
Requirements
For targeted methods such as PCR-based genotyping and targeted GBS services, a reference genome is required to design the appropriate SNP-specific primers.
If no reference genome is available for your species of interest, there are two options that can be implemented prior to the steps outlined above.
Biosearch Technologies can support with NGS sequencing to develop a reference genome, or:
Biosearch Technologies can offer enzyme restriction-based GBS services to discover new SNP markers without a reference genome.
Knowledge about the traits of the species of interest and capacity to validate these traits and their association to the SSR markers will be required. For your reference, you can see a list of species that we have worked with here.