Next generation beads for DNA purification from blood
Blood samples can often vary considerably in quality, and this can lead to wide variations in the consistency and yield of extracted DNA. Molecular testing protocols, including genotyping and next-generation sequencing applications require reliable and high quality sample preparations; sbeadex™ blood kits meet these requirements.
DNA purification from blood protocol
sbeadex blood is a magnetic bead based DNA purification technology for blood samples of up to 200 µL volume. These proprietary superparamagnetic beads are double coated and include 2-binding steps and follow the standard workflow.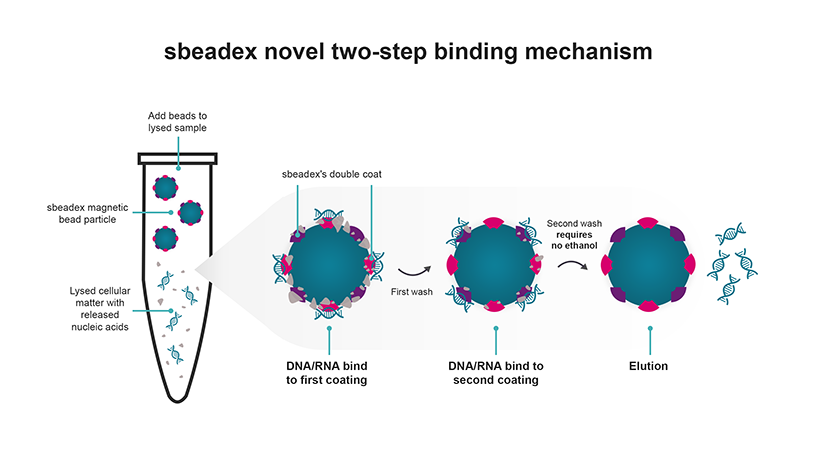 sbeadex blood kits have been developed as a high-throughput and cost-effective DNA isolation method. It supports automated DNA extractions using magnetic particle handlers (KingFisher™) as well as liquid handlers.
Standard blood sample (anticoagulants) and preparations are:
EDTA blood
Heparin blood
Citrate blood
Buffy coats
Applications for sbeadex blood kits
NGS: enzymatic fragmentation
Library/Cloning: suitable for digestion and ligation
qPCR/PCR: compatible with fluorescent BHQ probes and KASP chemistry
Sanger Sequencing
Due to the adaptability of the sbeadex blood kit chemistry, modifications to the standard protocol can easily be performed, dependent on the input sample volume, the storage conditions of the blood sample, and the anticoagulation factors used. sbeadex blood represents the next generation of magnetic beads, allowing highest flexibility in terms of sample volume, automation, washing conditions and other important purification requirements.
Advantages of a double-coated sbeadex blood purification kit
Efficient - purification of high molecular weight DNA from whole blood and buffy coat preparations
High quality – consistent OD260/280 ≥ 1.8 ratio and an average OD260/230 1.9 ratio
Easy to automate – magnetic microparticle handling offers flexibility
Absence of PCR inhibitors – no organic solvents or chaotropic salts in final wash buffers.
Convenient – all buffers supplied are ready to use
Optimised protocols - Less than 1 hour to DNA
Order information
All reagents in the sbeadex blood kits come ready to use.
| | | |
| --- | --- | --- |
| Catalogue number | Description | Number of purifications per kit* |
| NAP44401 | sbeadex blood kit | 96 |
| NAP44410 | sbeadex blood kit | 960 |
| NAP44100 | sbeadex blood kit | 5,000 |
| NAP44404 | sbeadex blood kit (Asia-Pacific) | 96 |
| NAP44440 | sbeadex blood kit (Asia-Pacific) | 960 |
| NAP44400 | sbeadex blood kit (Asia-Pacific) | 5,000 |
*The number of purifications is based on LGC, Biosearch Technologies' standard protocol that assumes 200 μL starting blood volume.
For research use only. Not for use in diagnostic procedures.