High-throughput, high-quality DNA and RNA purification for detection of multiple pathogens
Pathogen testing protocols (e.g. for COVID-19, influenza or easy-to-lyse bacterial pathogens) require fast, reliable, high-yield, high-quality and easily automatable sample preparation methods.
Our sbeadex™ Pathogen Nucleic Acid Purification Kits with their optimised chemistry meet these requirements and deliver excellent yields of highly purified nucleic acids from various sample material that can be used in many downstream applications such as PCR/qPCR, RT-PCR/qRT-PCR, and NGS. The purification procedure can be fully automated and is compatible with many robotic platforms.
The sbeadex Pathogen Nucleic Acid Purification Kit is a simple renaming of our proven sbeadex Viral RNA Purification Kit to reflect its continuously expanding usability to purify good yields of high-quality DNA and RNA from a variety of viral, bacterial and yeast pathogens.
Please see Table 1 for a list of viral, bacterial and yeast pathogens and compatible matrices that have been tested so far.
For Research Use Only. Not for use in diagnostic procedures.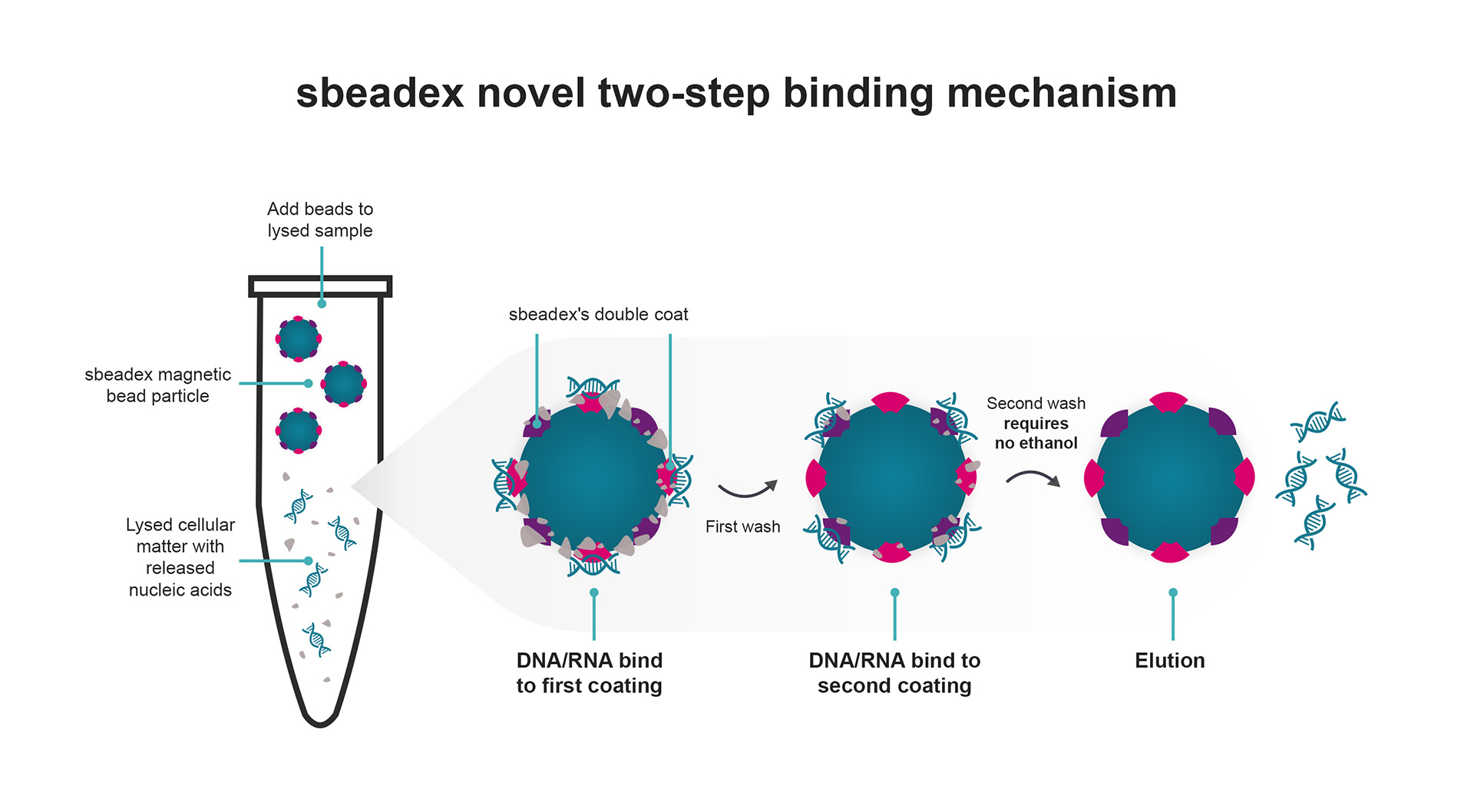 Key benefits
Qualified protocol for viral and bacterial nucleic acid purification
Compatible with most popular robotic platforms, including the Kingfisher™ and our high-throughput oKtopure™ instrument
Fast – both short (25 min) and standard (45 min) protocols available
High-throughput batch sizes (up to 10,000 purifications)
No organic extraction, alcohol precipitation or centrifugation steps
Water-based wash buffers reduce solvent carryover, resulting in absence of PCR inhibitors in final eluate
High nucleic acid quality for all downstream applications including PCR/qPCR and NGS
Ready-to-use kits with high stability (customised and bulk size kits are also available)
Pathogen
External Control (Artificial Matrix)
Viral Targets
SARS-CoV-2
VTM1
Influenza A H3N2
Swab2
Influenza B
Swab2
Novel Influenza A H1N1
Swab2
Respiratory Syncytial Virus (subtype A)
Swab2
Respiratory Syncytial Virus (subtype B)
Swab2
Adenovirus 4
Swab2
Zika Virus
Plasma3
Cytomegalovirus
Plasma4
Human Papillomavirus-16
Methanol-preserved cultured human cells containing full-length HPV episomal DNA5
Bacterial Targets
Bordetella pertussis
Swab6
Chlamydophila pneumoniae
Swab6
Chlamydophila psittaci
Swab6
Coxiella burnetii
Swab6
Legionella pneumophila
Swab6
Mycoplasma pneumoniae
Swab6
Mycobacterium tuberculosis
Sputum7
Campylobacter jejuni
Stool8
Salmonella enteritidis
Stool8
Yersinia enterocolitica
Stool8
Clostridium difficile
Stool8
Chlamydia trachomatis
Urine9
Neisseria gonorrhoeae
Urine9
Staphylococcus aureus
External Run Control10
Other Targets
Candida albicans
Positive Extraction Control11
Compatible Matrices Tested
Swabs (UTM®/VTM)
Sputum
Saliva
Blood
Plasma
Serum
Urine
Stool
Cerebrospinal Fluid
Table 1: Pathogens that have already been tested using the sbeadex Pathogen Nucleic Acid Purification Kit.
Standards used for testing
AccuPlex™ SARS-CoV-2 Verification Panel - Full Genome, 0505-0168 (LGC SeraCare)
AMPLIRUN® TOTAL RESPIRATORY VIRAL PANEL CONTROL (SWAB), MBTC020 (Vircell S.L.)
AMPLIRUN TOTAL ZIKV/DENV/CHIKV CONTROL (PLASMA), MBTC023 (Vircell S.L.)
AMPLIRUN TOTAL CMV CONTROL (PLASMA), MBTC018-R (Vircell S.L.)
AccuTrak™ HPV Genotype Qualification Panel, QSH701 (2400-0161), (LGC SeraCare)
AMPLIRUN TOTAL ATYPICAL BACTERIAL PNEUMONIA CONTROL (SWAB) MBTC022-R (Vircell S.L.)
AMPLIRUN TOTAL MTB CONTROL (SPUTUM) MBTC013 (Vircell S.L.)
AMPLIRUN TOTAL GASTROINTESTINAL BACTERIAL PANEL CONTROL (STOOL), MBTC021 (Vircell S.L.)
AMPLIRUN TOTAL CT/NG CONTROL (URINE), MBTC003 (Vircell S.L.)
NATtrol™ S. aureus (MRSA) External Run Control, NATSAU(MRSA)-ERCM (Zeptometrix Corporation)
NATtrol Candida/TV Positive Control, NATCTVPOS-BD (Zeptometrix Corporation)
Note: Other sample matrices may also be used with this kit. Further testing on other pathogens and matrices is in progress and this table will be updated accordingly.