Multiplex changing genetic target markers on the fly for pennies per sample with the world's most efficient, fully integrated qPCR workflow system in a box.
Unlocking deeper market knowledge from multiple types of genetic markers with real-time qPCR is now more powerful than ever.
Generate answers quickly and flexibly with the world's only fully automated high-throughput multiplexing qPCR system. Using Array Tape™ technology, the IntelliQube automates assay preparation, plate sealing, qPCR cycling and detection in a multiplexing system. Combine with proprietary BHQPlex CoPrimers technology for assay interchangeability, making it the most flexible high sample number qPCR system available.
Agrigenomics applications
Copy number variation
Adventitious presence
Quality testing
GMO detection
SNP genotyping
Genetic screening applications
Pharmacogenomic testing
Testing for disease predisposition
Ancestry testing
For Research Use Only. Not for use in diagnostic procedures.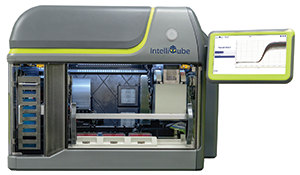 Resources
Related products