repliKator
The repliKator™ was initially designed to overcome challenges in our own genotyping service laboratories. On a daily basis we need to create multiple daughter plates from source plates provided to us by customers. With a precise 96-/384-channel pipetting head, an integrated tip wash station and an intuitive software control interface (RS 232 controllable), this robotic, automated bench top system can be run as a standalone instrument, or as part of an integrated system. The repliKator can very quickly stamp out copies of 96-, 384-, and 1536-well plates, or quickly reformat 96- / 384-well plates into 1536-well plates.
Suitable for use with 96-, 384- and 1536-well SBS-format microplates
Variable z-position dispensing head allows use of both shallow and deep-well plates
Preparation of 24 x 1536 microtitre plates with 1.5 µL in under 12 minutes
Can operate as a standalone unit or be easily integrated into a larger robotic system
Includes integrated wash station
Compatible with Kraken™ laboratory workflow manager
Simple template dispensing using intuitive software interface.
Ordering information
| | | |
| --- | --- | --- |
| Catalogue number | Description | Units |
| KBS-0006-001 | repliKator high-throughput DNA stamping robot | 1 |
| KBS-0006-002 | 384 to 1536 tip guide | 1 |
| KBS-0006-003 | 96-well non-sterile tip rack | 10 |
| KBS-0006-004 | 384-well non-sterile tip rack | 10 |
Make an enquiry
Resources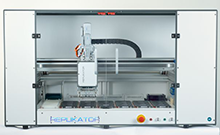 repliKator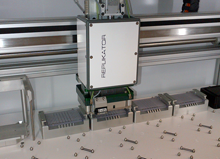 Head of the repliKator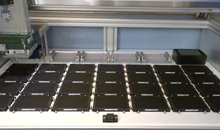 Plates placed on the repliKator
K-pette
The K-pette liquid handling instrument from LGC, Biosearch Technologies utilises an Apricot Designs system modified to enable efficient and accurate replication of microplates in a high-throughput laboratory. Utilised in conjunction with our unique plate adaptor designs, the K-pette system allows accurate replication of plates at the same or different densities efficiently and accurately. It includes a 384-channel pipetting head that is designed to function as either a 96- or 384-pipettor, and it supports a volume range from 1 to 125 µL with CV of less than 5%. The unit is easily controlled through a removable handheld touch screen interface.
Plate adaptors that enable reformatting of replicate plates are also included as indicated below:
96 to 96
96 to 384
96 to 1536
384 to 384
384 to 1536
Further cost and efficiency savings are available through the addition of a semi-automated wash station to regenerate the disposable tips used, generating significant savings.
Ordering information
| | | |
| --- | --- | --- |
| Catalogue number | Description | Units |
| KBS-0013-001 | K-pette 384 | 1 |