PCR assay design and development
You know what you're looking for and we're here to help you find it. Our highly qualified molecular biologists and PCR assay design experts act as an extension of your team, designing the best qPCR assay for your target of interest and experimental conditions.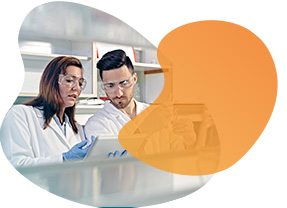 We leverage bioinformatics, leading edge assay design tools and our decades of assay design experience to finetune variables based on your instrumentation and application. After designing your assay, we provide in silico designs and seamless handoff to our production team to synthesize candidate oligos that your team can validate in your laboratory. Our consultative process and industry-leading portfolio of probes and oligo modifications give you confidence that you are getting the best PCR assay design to accelerate your time to market.
Our assay design and development service includes:
Expert design of oligos for your selected targets
Our service supports a variety of assay types including presence/absence, copy number variation, pathogen detection, speciation, multiplex and SNP genotyping. Based on your assay type and experimental objectives, we carefully review amplicon templates for secondary structures and off-target interactions to select primers and probes specific to your target of interest.

Flexible approach to chemistry selection
Probe technology choices can be a critical factor in the success of your assay. Partnering with us gives you access to an expansive selection of probe chemistries, including BHQ, BHQplus, BHQnova, MGB, LNA, Scorpion Primers and Molecular Beacons.

Multiplexing options for your specific instrumentation
Our in-silico tools will assess multiplex compatibility of your PCR targets and enable appropriate selection of reporter dyes for your instrument to minimize cross-talk. A thoughtfully designed multiplex assay will reduce unnecessary trial and error during your wet-lab assay optimisation.

Rapid synthesis and re-design
Once you have approved the candidate design, the sequences will be immediately submitted for manufacturing under ISO 9001. If the first design does not perform as expected, we will offer one alternative assay design at no additional charge!

Ready to get started?
Pricing for our PCR assay design service starts as low as $200 per assay based on target density. Provide us with a few initial details about your objectives using the form below. A member of our team will be in touch to discuss your project needs and how Biosearch Technologies can help you design the ideal PCR assay for your biological question, reducing your time to market. If you would like more information, please contact the assay design and development team.