K-Trak - multi-tube 2D barcode reader
Assay and reagent tracking is a crucial part of the laboratory workflow. With the advent of 2D tube barcoding, assay tracking has been simplified and allows you to track your samples far more easily.
K-Trak™ is the next generation of the LGC Cyclops™ - single 2D barcode reader. K-Trak substantially increases throughput by parallel scanning multiple 2D barcode tubes.
Key benefits
Scanning of all 2D tube barcode formats
Scan up to 16 tubes at one time at rate 16 tubes / second
Controlled internal illumination within fully enclosed unit eliminates errors
No external downloads for set up: 'Plug and play'
Kraken™ interface with integration into existing SNPline modules (optional)
Compact scanner solution
3 front facing USB ports allow easy connection of keyboard, mouse and external scanner.
Make an enquiry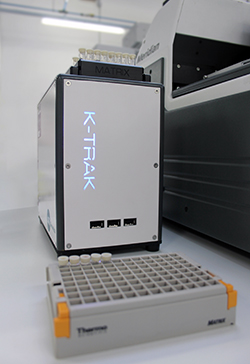 Flexibility and throughput
The K-Trak 2D barcode scanner is used in our own service laboratories to enable the accurate tracking of assay delivery across sample plates.
The K-Trak is an integral part of our laboratory operations enabling us to:
Have complete traceability
Assay tube and plated assay are linked into LGC's Kraken workflow management software
K-Trak scanner reads 2D barcodes of the assay tubes, before and after the Meridian2 ™ dispenses the assay into the linked plated assay.
Reduce error
Decreased risk of dispensing the incorrect assay into the wrong plate
Add the right assay to the right plate and tracked by Kraken
Reduced risk of human error since Kraken tracks assays tubes and links the assay to the plate.
Enhance productivity
Automatic scan of up to 16 assays at one time
Scan multiple tubes in parallel.
Ordering information
| Catalogue number | Description | Units |
| --- | --- | --- |
| KBS-0026-001 | K-Trak scanner | 1 |