Whether you're studying microbes from the environment, from clinical or veterinary clinical isolates, as a research organism, or as a biomanufacturing tool, LGC Biosearch Technologies can work with you to ensure successful completion of your mission critical microbial genome research projects.
Our flexible service offerings guarantee a cost-effective, project focused, and consultative customer experience that includes reliable data mining, fast turnaround times, extensive expertise and reliable support.
Available services
Strain identification
Microbial community analysis
Strain characterisation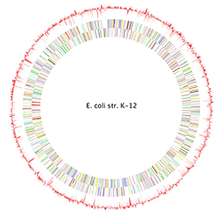 The right kind of collaboration brings you long-term success.
Key Benefits
Fast: Quick turnaround times ensure timely project completion
High-quality: Proprietary, optimised protocols deliver reliable data
Sensitive: Our protocols succeed with even low-quantity samples
Collaborative: Our scientists work together with you to design studies that meet your project objectives
Strain identification
DNA preparation
16S, 18S or ITS PCR and Sanger sequencing*
Fast lead time, reliable data mining and extensive support
*Sanger sequencing is only available for UK and EU customers.
Microbial community analysis
Amplicon-based metagenomics using next generation sequencing (NGS) - 16S, 18S, ITS or other conserved genes
Broad range of starting materials, e.g. air filters, soil, water samples
Extensive scientific support through the whole process including bioinformatics
Bespoke primer design and PCR conditions
Optimised MiSeq library preparation delivers low amplification bias/artefacts
Our bioinformatic services include:
Reference-assisted operational taxonomic unit (OTU) clustering
Taxonomic classification of OTUs
Diversity analysis with extensive data visualisation which includes multivariate
Strain characterisation
MiSeq/NextSeq whole genome shotgun sequencing of your microbial isolate
Variable coverage range according to your individual needs
Alignment and variant calling versus reference
De novo assembly and annotation**
**UK and EU customers only
LGC Biosearch Technologies uses state-of-the-art instruments, techniques, and bioinformatics tools to ensure you receive the benefits that the most advanced technologies deliver. We can provide any of our microbial genome research services individually or as a complete custom solution to achieve your project goals.