Pulsar® 650 Dyes
We have developed a fluorescent reporter dye that is expanding the capabilities of both the LightCycler 1.2 and the LightCycler 2.0 real-time, qPCR instruments: Pulsar® 650.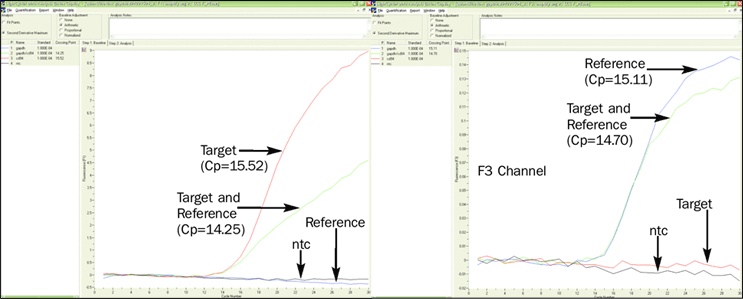 We developed a fluorescent reporter dye that is expanding the capabilities of both the LightCycler® 1.2 and LightCycler 2.0 real-time, qPCR instruments - Pulsar® 650. Forget about complex HybProbe® for multiplexing. Start thinking "Multiplexed dual-labeled BHQ® probes" on your LightCycler!
Pulsar 650 dye is a unique fluorophore that has an unusually large Stokes' Shift with an absorption maximum at 460 nm and emission maximum at 650 nm. Thus, Pulsar 650 dye can be used in place of a two dye FRET construct. Multiplex dual-labeled assays are possible on the LightCycler 1.2 and 2.0 using Pulsar 650 dye in place of a FAM-LightCycler Red HybProbe.
The Pulsar 650 dye is based on the Ru(bpy)3 metallocomplex and is stable under oligo synthesis conditions, strong acids and strong bases. LGC Biosearch offers Pulsar 650 labeled CPG for efficient 3' oligo labeling.
The Ru(bpy)3 core also has useful electrochemical and electrochemiluminescent properties.
Multiplexed LightCycler assays have never been easier - analyze your genes of interest simultaneously with an internal control in real-time. Dual-labeled BHQ® Probe or Molecular Beacon assays designed for other real-time PCR instruments can now be adapted to the LightCycler!
Advantages At-a-Glance
Simpler alternative to HybProbe design
Real-time internal control normalization
Quenched with Black Hole Quencher® Dyes (Dark Quenchers)
Dual-labeled assays developed on other real-time instruments can now be applied to the LightCycler
Allows for duplexing on the LightCycler 1.2 and triplexing on the LightCycler 2.0
Calibration Help
Take the sequences for your dual-labeled probes and have both synthesized, one with 5'-FAM / 3' BHQ-1 labels and the second with 5' BHQ-2 / 3' Pulsar 650 labels. If you are a LightCycler 2.0 user, you will also need to purchase a FAM-T10 calibration dye to spike into your Pulsar 650 capillaries at a concentration of 10 nM. The instrument seeks this FAM fluorescence as part of the optics optimization.
If you haven't previously used the Pulsar 650 dye on your LightCycler, you'll need to provide it with spectral information about Pulsar 650 dye to compensate for channel crosstalk. LightCycler users also have the flexibility to generate assay-specific calibration compensation (CC) files using the dual-labeled BHQ® probes themselves, or with our calibration dyes. Instructions for each of these methods can be accessed in our support section.
Follow your standard instrument setup procedures and make sure to indicate detection of FAM in the 530nm (F1) channel and Pulsar 650 dye in the 705nm (F3) channel. Apply the color compensation to your resulting amplifications to resolve the FAM and Pulsar 650 signals.
If you need assistance, please feel free to contact our Technical Support Team at techsupport@biosearchtech.com or by calling 1.800.436.6631 (US/Canada) or 1.415.883.8400
LightCycler 2.0 Users: Because this instrument seeks FAM fluorescence from each capillary during the optics optimization, FAM calibration dye needs to be spiked into any capillary that is lacking FAM probe, including Pulsar 650 singleplex reactions. We recommend spiking this dye to a final concentration of 10 nM. Please inquire about FAM calibration dye availability.
Duplex and Triplex Experiments