Solid support performance can be a significant factor in reducing oligonucleotide synthesis cost and ensuring a ​quality end-product.
Our controlled pore glass has been refined for maximum oligo purity and yield through advanced production techniques to optimise control of particle size and shape, pore size, pore volume and specific surface area.
Explore our bestsellers for therapeutic applications
In general, large scale oligo synthesis for therapeutic applications requires high loaded 500-600 Å and small to medium scale synthesis for diagnostic or research use require higher pores sizes. Explore our current top-selling CPG products for therapeutic oligos using the links below.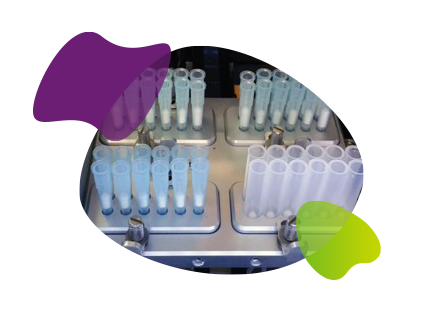 A solid support you can rely on with the highest quality built in
We follow ISO 9001 quality manufacturing standards to deliver the most reliable, consistent products. We strive to provide our customers with the peace of mind that their products can be manufactured with minimal impurities and maximal levels of safety for consumers worldwide.
Choosing the right solid support
LGC's CPG solid supports are available in a variety of pore sizes and functionalised nucleoside loadings. Six pore sizes are offered from 500 Å to 3000 Å to enable the synthesis of oligonucleotides for nearly any application.

The pore size you'll require depends on the length, complexity and application of the oligonucleotide. Starting with an appropriate solid support based on the oligonucleotide's characteristics is critical to maintaining a high coupling efficiency throughout the synthesis cycle.

To simplify the selection process and help direct you towards the right CPG selection for your application, explore our guided solid support finder.
What are the most widely used pore sizes?
500/600 Å CPG
<35mers medium to large scale oligo synthesis. High yields of product are required such as therapeutic oligos High loaded support is required. 500 Å can load up to ~100 μmol/g.
1000 Å CPG
>35mers or highly modified oligonucleotides. The loading is typically 25-40 µmol/g and most of our modifiers are functionalised onto this pore size as standard.
2000/3000 Å CPG
>80mers
The loading is typically 10-20 µmol/g.
CPG quick find
Bulk and column-packed controlled pore glass products by LGC Biosearch Technologies are summarised in this table with quick links to help you find what you're looking for.
Type of CPG
Modification available
DNA
dA, dC (Ac), dC (Bz), dG (iBu), dG (dmf), dT​
RNA
rA (Bz), rC (Ac), rC (Bz), rG (iBu), rG (dmf), rU

2'OMe rA (Bz), 2'OMe rC (Ac), 2'OMe rC (Bz), 2'OMe rG (iBu), 2'OMe rG (dmf), 2'OMe rU
RNA (pac)
rA (pac), rG (iPr-Pac), rG (iPr-Pac)
Reverse synthesis
3'DMT dT, 3' DMT dA (Bz), 3' DMT dC (Bz)
LNA
LNA A (Bz), LNA C (Bz), LNA G (dmf), LNA T
2'F
2'F A (Bz), 2'F C (Ac), 2'F G (iBu), 2'F U
BHQ (1000Å/500Å)
BHQ-1, BHQ-2, BHQ-3
Other fluorophores and quenchers
CAL Fluor, TAMRA, Fluorescein, Cyanine, Dabcyl, DDQ, BBQ
Universal
DMTr off (N-iPr)
Cell delivery
GalNAc, Tocopherol, cholesterol
Need support with your CPG?
Our scientists are on hand to help you select the right controlled pore glass for your application and offer individual support with any technical questions you may have. Regardless of your time zone – you can establish, optimise, or troubleshoot your oligo synthesis protocols with one of our nucleic acid chemistry specialists who will help you find exactly what you need.