Enhance your assay with a Locked Nucleic Acid Probe or locked nucleic acid primer
Improve assay sensitivity and specificity with locked nucleic acid (LNA) oligonucleotides. LNAs are modified RNA bases in which the ribose is "locked" with a methylene bridge, connecting the 2' oxygen atom to the 4' carbon atom, fixing it in the C3'-endo conformation.
LNAs enable a shorter probe, which supports assay design for:
Improved assay sensitivity

Higher quenching efficiency (lower background)
Greater signal-to-noise ratio

Increased hybridization specificity
Targeting A-T rich sequences
Better mismatch discrimination in SNP genotyping assays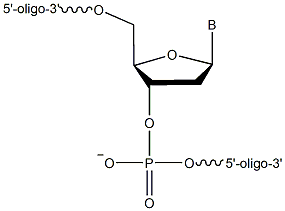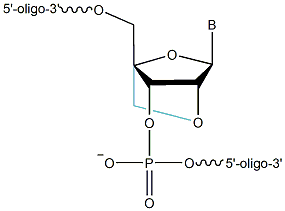 LNAs from LGC Biosearch Technologies for commercial use
As the original manufacturer of Black Hole Quencher (BHQ) dyes, we are ready to help you take full advantage of the performance improvement power of LNA technology combined with our best-in-class BHQ quenchers. Use this Excel template to communicate your exact specifications to our manufacturing team.
Additional benefits include:
Access to LNA Probes in a wide range of fluorophores for multiplexing.
We can add up to seven LNA bases in the probe.
Our sequences are dual-HPLC purified, MS and uHPLC verified.
Our global commercial capabilities are structured to deliver you with the highest quality oligonucleotides formulated to your exact specifications. With more than 40 years of oligonucleotide synthesis expertise, we pride ourselves on partnering with you from early-stage research through commercial launch.
Our oligonucleotides are made under our robust Quality Management System (QMS) to comply with ISO 9001:2015 and ISO 13485:2016, whereby our stringent processes continually drive industry leading quality, transparency, and reliability every step of the way.
Save time and resources with pre-mixed LNA Probes and primers
Simplify assay setup by ordering LNA Probe and primer pairs as a ValuMix assay.
For gene expression and qPCR assays, you provide the specifications, including your probe-to-primer ratio, and we send you a custom, dual-labled LNA Probe and primer pair in a single tube. For SNP genotyping applications, we offer a ValuMix assay comprised of two custom LNA Probes and a primer pair delivered in exact quantities.
Customise your LNA oligo with LGC Biosearch Technologies' extensive menu of custom modifications
Interested in LNA-enhanced primers for SYBR Green Assays? In addition to offering LNA Probes, LGC Biosearch Technologies also synthesises custom oligos with internal LNA modifications. Use the order form to create your oligo with 1-20 LNA base insertions. Add + before the base to indicate where to insert LNA (+A, +T, +C, +G).
* LNA is a registered trademark of QIAGEN Group.