Fueling your efforts to develop and manufacture SARS-CoV-2 molecular diagnostics
Comprehensive solutions for OEM and molecular diagnostics manufacturers
For much of today's world there is one shared mission-critical project—drastically expanding SARS-CoV-2 testing. At LGC, Biosearch Technologies™, we are fueling the efforts of OEM and molecular diagnostics manufacturers around the globe, in the race to develop and scale-up the production of SARS-CoV-2 diagnostics.

Developing your own kit? What do you require to develop your SARS-CoV-2 assay?Let us know how we can help.

Why choose Biosearch Technologies to supply the reagents for your kit?

Meet the rapidly growing demand for SARS-CoV-2 molecular testing with OEM and critical components prioritised and expedited for large-scale deployment.

Order bulk custom synthesised COVID-19 probes and primers using sequences you supply. cGMP compliant and ISO 13485-certified manufacturing options in US and Europe are available.

Incorporate powerful BHQ and BBQ dyes—both invented by Biosearch Technologies into your probes and primers

Give your customers the same dye technologies mentioned in many of the COVID-19 protocols provided by the World Health Organization (WHO)

Confidently deliver high-performance detection kits with dyes that come straight from the original supplier and inventor

Ensure sensitive pathogen detection with the RapiDxFire family of products, including master mix and reverse transcriptase enzymes. These products are manufactured in an ISO 13485-certified facility demonstrating batch-to-batch reproducibility

Scale-up in-house oligo synthesis, with quality Nucleic Acid Chemistry reagents, including BHQ and BBQ dyes and other fluorophores and quenchers
Help me develop my SARS-CoV-2 assay

The Biosearch Blog
Get more in-depth insights about COVID-19 and how LGC, Biosearch Technologies is supporting the rapid response to the pandemic from our blog.

COVID-19 Resources and downloads
Products to support your workflow
Automation-compatible products for high-quality RNA extraction and purification from a range of clinical samples, including upper respiratory specimens.
High-performance reverse transcriptase (RT) options that can fit into a range of workflows.
We enable sensitive pathogen detection with our master mix reagents formulated for molecular diagnostics manufacturers.
For bulk ordering of probes and primers
Reliable, scalable production of custom oligonucleotides with a wide range of probe formats and powerful quenching technologies.

Our vertically integrated supply chain includes in-house manufacturing of the raw materials for oligo synthesis for reliable oligo manufacturing quickly and at scale

We offer a range of probe formats, including powerful BHQplex technology which facilitates multiplexing through assay interchangeability

We have GMP and ISO 13485 manufacturing facilities to meet the demand of any regulatory requirement

We're the inventor and original source of all the quenching technologies that are cited in the protocols published by WHO

We safeguard the integrity of your COVID-19 workflows by manufacturing and shipping oligos in a completely separate and geographically distant facility from positive control production.

Develop your own custom assay
Probes and primers for SARS-CoV-2
For oligonucleotide synthesis
To support your in-sourcing of oligonucleotide synthesis at scale, we manufacture the critical raw materials required for your probe and primer components, giving your customers the same dye technologies mentioned in many of the COVID-19 protocols provided by the World Health Organization (WHO).
Get same-day shipping on in-stock nucleic acid chemistry reagents and expedited delivery for orders to support COVID-19 efforts
LGC SeraCare offer a complete Quality Solution for COVID-19 diagnostic assay validation
AccuPlex™ technology mimics wild-type pathogenic viruses, but is safe, non-infectious, and replication deficient. These materials serve as true, full-process quality solutions that challenge the entire diagnostic workflow, making them the preferred alternative to infectious materials.

Together, the AccuPlex SARS-CoV-2 Verification Panel and AccuPlex SARS-CoV-2 Reference Material Kit offer an ideal solution for clinical laboratories looking for a safe, effective tool to verify and monitor SARS-CoV-2 molecular assay performance. Products contain positive materials directed against the published CDC and WHO consensus sequences and the S gene. Negative materials targeting the human RNase P gene are also included.
LEARN MORE
"We just went 'live' with the SARS-CoV-2 assay…I've never brought in and validated an assay in 7 days. The LGC SeraCare reference material works perfectly. I needed something other than the assay's positive control to create a positive assay result before I felt comfortable releasing the assay for patient testing, and your product did the trick."
Medical Director, Clinical Chemistry Laboratory prominent Boston Academic Medical Hospital
For testing
Confidently meet surging demand with a large-scale, end-to-end testing solution.
As the need for SARS-CoV-2 testing continues to grow for both diagnostic and screening applications, many organizations are looking to expand or create testing capacity. For existing diagnostic labs, limited supplies of instruments, reagents and laboratory technologists make getting high volumes of testing done in a timely manner challenging.
Biosearch Technologies offers fully automated PCR testing technology that is redefining high-throughput for SARS-CoV-2 detection to 35,000 tests per day on a single system. To further enable mass testing, our ultra-high-throughput PCR testing system is capable of processing up to 150,000 tests per day on a single system.
LEARN MORE

For oligonucleotide synthesis
To support the demands of high-throughput oligo synthesis, we offer the MerMade™ 192E and MerMade™ 192X synthesizers. The 192E (and the robotic version 192R) is especially suited to less complex probes and primers and can synthesise 192 oligos in less than 3 hours, producing a very high quality product with minimal reagent usage.
Help me develop my SARS-CoV-2 assay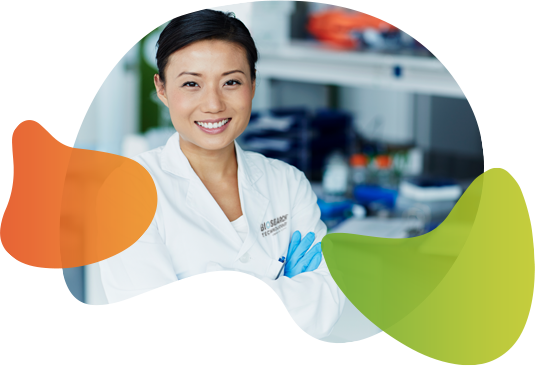 Working with you to wield science for a safer world.